I don't really know much about the classic R&Bs in 70's or early
80's, thus can't speak about Switch or DeBarge.
I know only a few famous tracks such as "Rhythm of the Night",
"I Like It", "All This Love", "Stay With Me", and "Who's Johnny"
done by DeBarge and El DeBarge.
El Debarge's 4th solo album "Heart, Mind and Soul", collaborated
with Babyface and released in 1994, is one of my most favorite
albums from the 90's, though.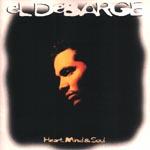 His voice is so fragile (it's a compliment), warm and relaxing.
I love all the songs included in this album, not to mention Babyface
songs but also "It's Got To Be Real", "Heart, Mind and Soul", written
and produced by El Debarge himself.
A duet with Babyface, "Where Is My Love?" is just so sweeeeet
I'll never get tired of listening to it.
I wonder when my "I'm here!" will be heard by Babyface...