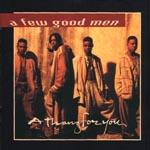 Includes three Babyface songs; "Young Girl", "Have I Never", and
"Southern Girl".
Also Daryl Simmons contributes as a writer and producer on several
tracks.
I just love listening to "Have I Never".
Such a sweet love song that any women would want to hear.
I guess you can compare AFGM to other male vocal groups such as
Boyz II Men, Az Yet, and Silk.
Although this is the only album which AFGM has released
(and "Take A Dip" with similar tracks with "A Thang For You"),
what makes AFGM stand out is the quality of the songs and their
vocal skills, I think.
This album has some of the best songs ever written, and I can tell
by listening to these guys that they are singing with such a self-
confidence.
Hope they would come back to the scene.
By the way, I like the way how this album starts with an interlude
"Five Dollars", and ends with another interlude "Ten Dollars".
Yeah, five dollars up!